Podcast: Play in new window | Download
Subscribe: RSS
As inflation continues to rise the Feds are getting off their butts and raising rates. At this point, the plan is to put some upward pressure on interest rates. If it works, price growth slows and inflation slows down. But how is that going to affect our local market here in Albuquerque? Will home prices drop in 2022?
Let's look at how these higher rates affect monthly mortgages. For example, last Thursday the average 30-year fixed mortgage rate was at 5.11%. If you compare that to December of last year, yikes — it was at 3.11%. How does that affect home buyers? Well, if a consumer fell in love with their dream home last December, their payments would be around $2,100 (for a $500k home). Today, that same house, at the same price, would have a $2,700 payment.
Will Home Prices Drop?
Let's face it, we're skirting around a bubble — but don't panic, we're not there yet. Sure, rates are going up and that is putting downward pressure on the market, but that doesn't mean it's time to pack up. In fact, major players are reworking their forecasts — because we've already surpassed their predictions on rates.
Last year, Fannie Mae forecasted a 3.3% mortgage rate by the end of 2022 — guess what folks? Yeah, we're in 2Q22 and are already sitting on 5.11%.
But will home prices drop as a result? Well, not according to Zillow, who just released their forecast. Basically, they see home prices RISING 14.9% through March of 2023 — but there's a catch.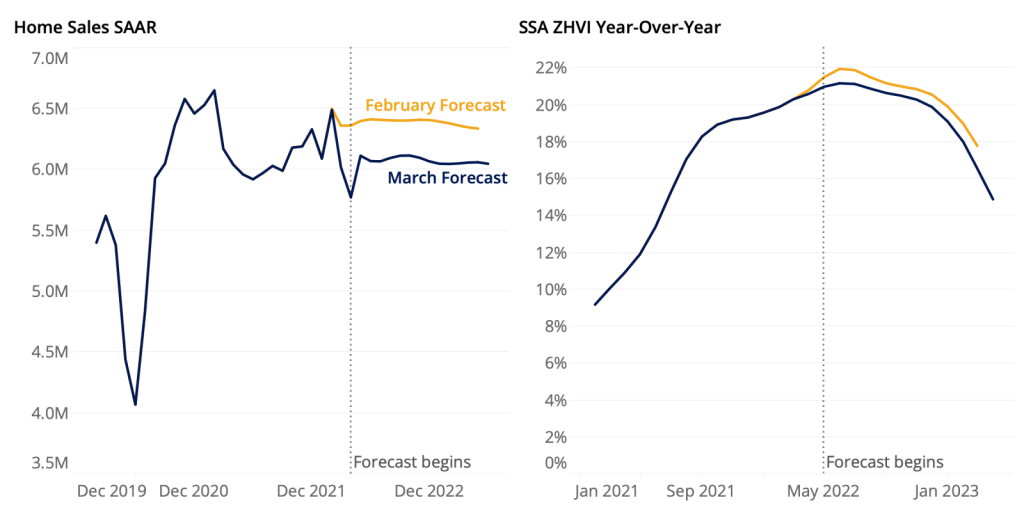 CoreLogic (ranked #952 on the Fortune 1000, says home values could fall in specific, overpriced markets — but could rise by 5% in normal and underpriced markets. True, that is a bit of a slowdown from the 19.8% boost we've seen the past year, but it shows we've still got some wiggle room.
When Will Home Prices Drop in Albuquerque?
Back in 2020, when the COVID-19 lockdowns started to loosen, the housing market took off. Most analysts accredited the growth to first-time homebuyers, low mortgage rates, and workers migrating to the remote-workplace lifestyle. It just made sense — at the time.
CoreLogic analyzed the U.S. housing market and concluded that local income levels could support the climbing prices of homes. But they also state that 65% of our housing markets are "overvalued" — Albuquerque being in that category.
Basically, CoreLogic created five categories — each with increasing likelihood of prices falling within the next year. Albuquerque is listed as "very low", meaning it's not likely to happen here, this year.
Places with the highest chance of the market correcting (reversing) include — Lewiston, ME; Salem, OR; Honolulu, HI; Muskegon, MI.
What's Our Move?
While home prices here in Albuquerque, NM are currently considered overvalued, they are predicted to continue rising slightly. Our flips may not be as easy to come by, and we may need to adjust our formula, but as of right now, there's plenty of potential out there.